ALTIUS (GREY LENS) RC AVIATOR SUNGLASSES


Rapid Eyewear's new British-designed aviators combine strength, style, comfort and cutting edge lens technology to provide you with the ultimate sunglasses for RC. If you would like to have these sunglasses made with your prescription lenses, please choose your preferred option from the drop-down menu at the top of this page.

Altius have a build quality and feature list that makes them outstanding value for money when compared to alternative high-end brands. 


The Frame
Manufactured from a tough nickel alloy, the top quality Altius frame is extremely robust, with solid hinges that do not exhibit the slop associated with cheaper sunglasses. Adjustable nose pads and rubber side arm extensions enhance comfort levels. Finished in an attractive, shiny gun metal grey colour.


The Lenses
Utilising Rapid Eyewear's Multi Layer technology, Altius Category 3 lenses are packed with features. Made from impact resistant polycarbonate, the lenses are finished with a flash mirror coating that makes them look very attractive whilst reducing extreme light that can cause problems on sand, water and at altitude.


The Altius lenses have a hard coating to make them as scratch resistant as possible. They also benefit from hydrophobic and oleophobic coatings, which resist grease and water.

By filtering blue light from the spectrum, Altius lenses improve depth perception and contrast, making it easier to judge the orientation and distance of your model.


Prescription Options
We are pleased to offer Altius as prescription RC sunglasses. To select a prescription option, use the drop-down menu at the top of this page. You can choose from the following:

Single-vision without flash mirror coating
Single-vision with flash mirror coating
Bifocal without flash mirror coating
Bifocal with flash mirror coating

The polycarbonate prescription lenses used by our lab are top quality, lightweight and utilise all of the features of the standard lenses. The only difference is that the standard lenses are not supplied with the flash mirror coating - if you would like the flash mirror finish, please be careful to select the correct option from the menu.

From the date of order it will take around 2 - 3 weeks to complete and ship the sunglasses to you. Orders with the flash mirror coating will take a little longer than the standard options. There are no restrictions on the diopter (sphere) strength that can be fitted to these sunglasses.


Conformity and UV
Rapid Eyewear sunglasses conform to the new ISO 12311 and 12312 standards for sunglasses and protective equipment testing. This standard has now replaced EN1836 in the European Union. They offer 100% UVA / UVB (UV400) protection.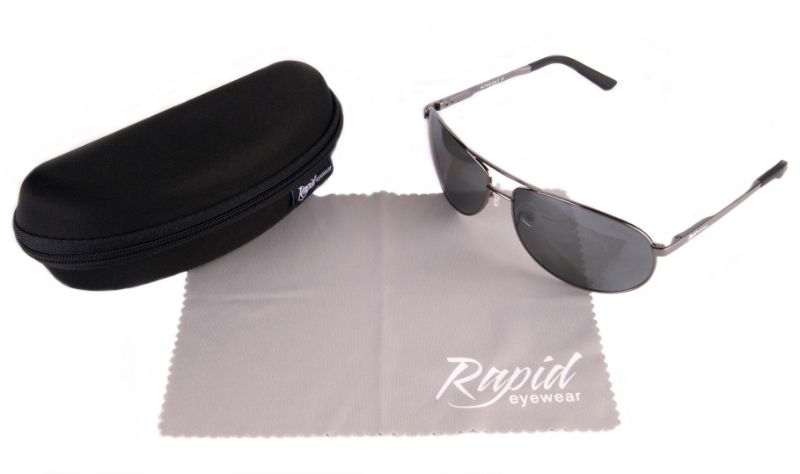 There are no related hopups for this product.
There are no related parts for this product.
*New Altius (Grey lens) Aviator Pilot Sunglasses. 100% UVA/B (UV400) protection.Altius also comply with all CAA recommendations for pilot eyewear.
Product Code: MG-Altius-GY
Availability: In Stock